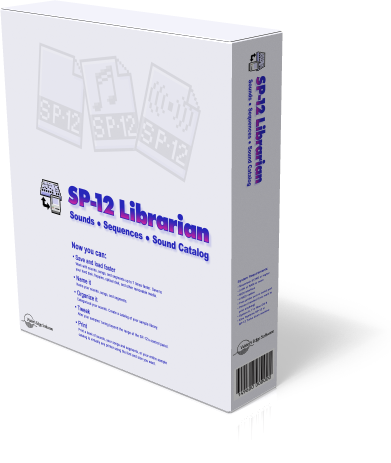 Overview of the SP-12 Librarian
SP-12 Librarian for E-mu Systems SP-12 and SP-12 Turbo digital drum machines is an application that lets you save and load the SP-12's sounds (samples) and sequences (segments and songs) using your Macintosh computer, in a small fraction of the time compared to other storage devices.
You can name your sounds, songs, and song segments to help organize your work. Also, the SP-12 Librarian's Sound Catalog keeps track of your entire SP-12 sample library — No more need to keep notes of what you saved, and where you stored it. And of course, you can print the Sound Catalog at any time to document your sample library and song files.
The SP-12 Librarian for the Macintosh. We are putting more power into your SP-12.
SP-12 Librarian's Features
General
The SP-12's data is saved on your Macintosh's disks. You can save to hard disks, floppies, optical disks, removable disks. Just about anything.
Saves and loads files a lot faster than the Commodore 1541 disk drive or cassettes. It runs at MIDI's maximum performance limit.
SP-12 Librarian files are compact. A single 800K floppy disk can store about 5 average sound files, or a few dozen huge sequence files.
"Fail Safe" file management makes sure you do not lose an existing file if something goes wrong while you are updating it with new SP-12 data.
Compatible with System 6 (using Finder or MultiFinder) System 7, and Mac OS 8 only.
Very memory efficient. Will run with as little as 180K of RAM (computer memory). Requires no more than 400K for maximum performance.
Comprehensive, illustrated User's Manual.
Full support for monochrome, gray-scale and color monitors, as well as Macintoshes with multiple monitors.
Sound Files
Name each sound. This includes the SP-12's built-in ROM samples too.
Displays the names of all 32 sounds simultaneously. The sounds are organized into banks, just like your SP-12.
Each sound indicates if it is a RAM or ROM sample.
You can classify each sound in a manner that suits you best. You create categories such as: Kick Drums, Toms, Electric Toms, Cymbals, Hi-Hats, etc.
The SP-12 Librarian remembers the list of sound categories that you have created. You simply pick a category from this list, rather than remembering and typing. You can always add new categories.
View each sound's Name, Category, Channel Number, Mix Level, Tune/Decay Selection, Tune/Decay Value, Sample Time, and Loop simultaneously.
Edit each sound's Name, Category, Channel Number, Mix Level, Tune/Decay Selection, and Tune/Decay Value.
You can alter the tuning and decay of ROM sounds well beyond the range that is possible when using the SP-12's control panel. This lets you expand the sonic potential of your SP-12 beyond its current capabilities.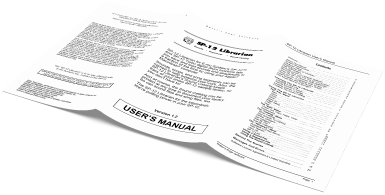 Sequence Files
Name each song and song segment.
View both songs and song segments simultaneously in the same window.
Sound Catalog
The Sound Catalog is a comprehensive listing of your SP-12 sample library, regardless of where those files are stored (i.e., across multiple disks, CD-ROMS, etc). It is an index of all your samples, and it can tell you where to find them.
Sort the Sound Catalog by sound file. This list is best suited for determining the contents of each sound file.
Sort the Sound Catalog by category. This list is best suited when looking for a particular type of sample. For example, all the "Snare" samples are grouped together, indicating the file, and the location of the file, where you can find each sample.
Printing
Print sound files, sequence files, and the Sound Catalog. SP-12 Librarian produces good-looking results, even on old impact printers.
Print reports using the font and font size of your choice.
System Requirements
A Macintosh desktop computer, model 512KE or later. This includes only Macintoshes with 680x0 and PowerPC processors. Laptops, notebooks, Macintosh Duos, the Macintosh Portable, (any mobile Macintosh) and Intel-based Macintoshes are not supported. Non-Macintosh computers, including Windows PCs, are not supported.
Your Macintosh must have the built-in "classic" (AKA "standard") Modem and Printer serial ports. They are round, 8-pin Mini-DIN connectors (not Geoports or USB ports).
You need a MIDI interface for the Macintosh with 2 MIDI cables. The MIDI interface must attached to your Macintosh using either the Printer port or the Modem port (mentioned above), both of which are built-in serial ports. SP-12 Librarian requires one (1) MIDI input (SP-12 drum machine to MIDI interface) and one (1) MIDI output (MIDI interface to SP-12 drum machine). Additional MIDI ports are not required by SP-12 Librarian, though they are not detrimental. The two MIDI cables connect your MIDI interface's IN and OUT ports to the SP-12's MIDI IN and MIDI OUT ports.
(NOTE: The MIDI interface must be a "dumb" interface that can pass through non-standard MIDI data. Some "advanced" MIDI interfaces, such as the Opcode Studio 5 LX, cannot.)
System 6, System 7, or Mac OS 8.x is required on your Macintosh. SP-12 Librarian does not support Mac OS 9 or newer. SP-12 Librarian has not been tested on Systems using non-Roman character sets, such as Kanji.
Two floppy disk drives, or a hard disk.
Printer (optional, required only if you want to print any of the SP-12 Librarian's reports).
E-mu Systems SP-12 or SP-12 Turbo drum machine (the SP-1200 is not supported).
SP-12 Librarian takes exclusive control of a user-selectable serial port (either the Printer port or the Modem port) while it is running. It does not require MIDI middle-ware software such as OMS or FREEMIDI.
SP-12 Librarian is a "Classic" application that is written in 680x0 code, but it will run perfectly on Macs with a PowerPC processor too. We have no plans to update or upgrade SP-12 Librarian. If your current computer does not meet the System Requirements listed above, please consider getting an older model, pre-owned, and very inexpensive Macintosh, such a Macintosh Plus, Macintosh II, Macintosh LC, or other similar model that meets the SP-12 Librarian's System Requirements.
All SP-12 Librarian documentation and the application itself is available in English only.
Performance Comparison
In actual tests, the SP-12 Librarian always out-performed the Commodore 1541 disk drive, and the cassette interface, often by a wide margin. The results are conclusive. If you are not using the SP-12 Librarian, you are spending too much time waiting on your drum machine. The time in the following table is shown in minutes:seconds.
Operation

SP-12
Librarian

1541
Disk Drive
Cassette
Interface
Save SP-12 Sounds
1:42
(0.25 disks)
12:05
(2 disks)
12:15
Load SP-12 Sounds
1:42
4:20
12:15
Save SP-12 Sequences
0:22
2:19
2:19
Load SP-12 Sequences
0:19
0:50
2:19
Test Conditions
When testing the SP-12 Librarian, a standard Macintosh Plus was used with two 800K floppy disk drives. The SP-12 Librarian startup disk was in the internal drive, and a blank, formatted disk was in the external drive. If you use a hard disk, you will obtain slightly better results (about 10% faster).
In all cases, an SP-12 Turbo (5 seconds of sampling time) with version 2.6 software was used. The sample or sequence memory was completely full, depending on the data being saved.
Timing was started when the SP-12 command was entered, and ended when the SP-12 displayed "Cassette/Disk Complete." In all cases, the required disk or tape was inserted and ready to be used prior to starting timing. In the event that a second disk was required (as with the Commodore 1541 disk drive), the time required to insert a new disk and restart the SP-12 was not included (actual time takes a longer than indicated).
The SP-12 Librarian's disk requirements were based on an empty 800K disk which actually has 779K available for use. The sound file was 194K, and the sequence file was 37K. Both files do not include extra disk space that is consumed by naming sounds, songs, and segments.
Note that with SP-12 Librarian, you also save time by not having to verify that your SP-12's data was saved correctly because this is done automatically by the librarian and the Macintosh as your data is being saved. When including data verification times, the performance difference is even more pronounced:
Operation

SP-12
Librarian

1541
Disk Drive
Cassette
Interface
Save SP-12 Sounds
and verify
1:42
16:25*
24:30*
Save SP-12 Sequences
and verify
0:22
3:09
4:38*
*Plus additional time required to change
floppies or tapes, and to rewind tapes.
---
How To Buy The SP-12 Librarian
IMPORTANT NOTE: Before you place your order, make sure your Macintosh
and MIDI interface meet the System Requirements, shown earlier on this page.
*** ALL SALES ARE FINAL ***
Email Delivery: SP-12 Librarian is available for only US$99. We send the software to you by email, compressed as a StuffIt (.sit) archive. You need to decompress this archive on a Macintosh. Once decompressed, simply drag the SP-12 Librarian to the startup disk on the Macintosh on which you will be running SP-12 Librarian.
Important Note: You will need to figure out how to transfer the SP-12 Librarian software from your Macintosh with the email account, to the Macintosh that will be running the SP-12 Librarian. We offer no expertise or support in this transfer.
Making Your Payment
We accept payment by PayPal only (no problem if you don't have a PayPal account). Send us your PayPal email address (but NOT your password), and we will send you a "Request For Payment" (an invoice) through PayPal. If you don't have a PayPal account and don't want to set one up, then that's not a problem! Send us your regular email address. When you receive your PayPal invoice, you'll be able to make a 1-time payment using your credit card.
Send us the following information:
Please send the following information when placing your order:
Full Name
Company Name (if applicable)
Street Address
City, State/Province
Country
Zip/Postal Code

Day Time Phone number
Send your order to:
E-mail to: SP12Librarian@WatersEdgeSoftware.com
---
Downloads
SP-12 Librarian User Manual (226K, PDF format)
E-mu Systems SP-12 Brochure (4 MB, PDF format)
E-mu Systems SP-12 User Manual (2.1 MB, PDF format)